OUR CHALLENGES
YOU MOVE > WE PLANT
OUR CHALLENGES
YOU MOVE > WE PLANT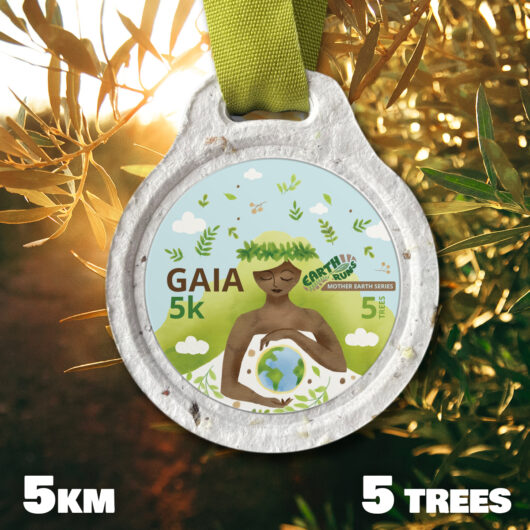 05. GREEK GODDESS GAIA 5K
CLOSING DATE: 31st December 2023
TREES PLANTED: 5
| ENTRY FEE: £6.75
CLOSING DATE: 31st December 2023
PLANT: 5 TREES | ENTRY FEE: £6.75
---
In Greek mythology, Gaia is the personification of the Earth and she is one of the Greek primordial deities. Gaia is the ancestral mother of all life including Uranus (the Sky), Ourea (the Mountains), and Pontus (the Sea). She is said to have given birth to the Titans who went on to rule the Greeks.
Run, walk or roll the Gaia 5k to plant 5 trees.
Entries will need to be submitted by 9th January 2024 to be counted within the race. Your seeded medal, if you've ordered one, will be sent within 5 working days of the closing date by 2nd class post.
RACE OPTIONS
Select whether you're running, walking, cycling or rolling to compare your finish times like-for-like. To add a seeded medal (if available in your country) for completing the race, select 'Add medal' below (+£3.75 inc. postage).