OUR MEDALS
NO ORDINARY MEDAL
We're proud to offer the greenest medal there is. It's not your average bling. In fact it's rough and ready and very wild at heart.
The environment is behind everything we do, so although we all like a bit of bling – giving out mass produced medals made up of mixed metals that have a large carbon foot-print and a plastic ribbon that will never break-down – well, that just wasn't us.
We embarked on a search for a sustainable alternative and found the 'green' options were all made of wood… and well, if you're running to plant trees it didn't make sense to use wood to make a medal!
So, we gave up searching and we've made our own…
Say hello to our sustainable medal…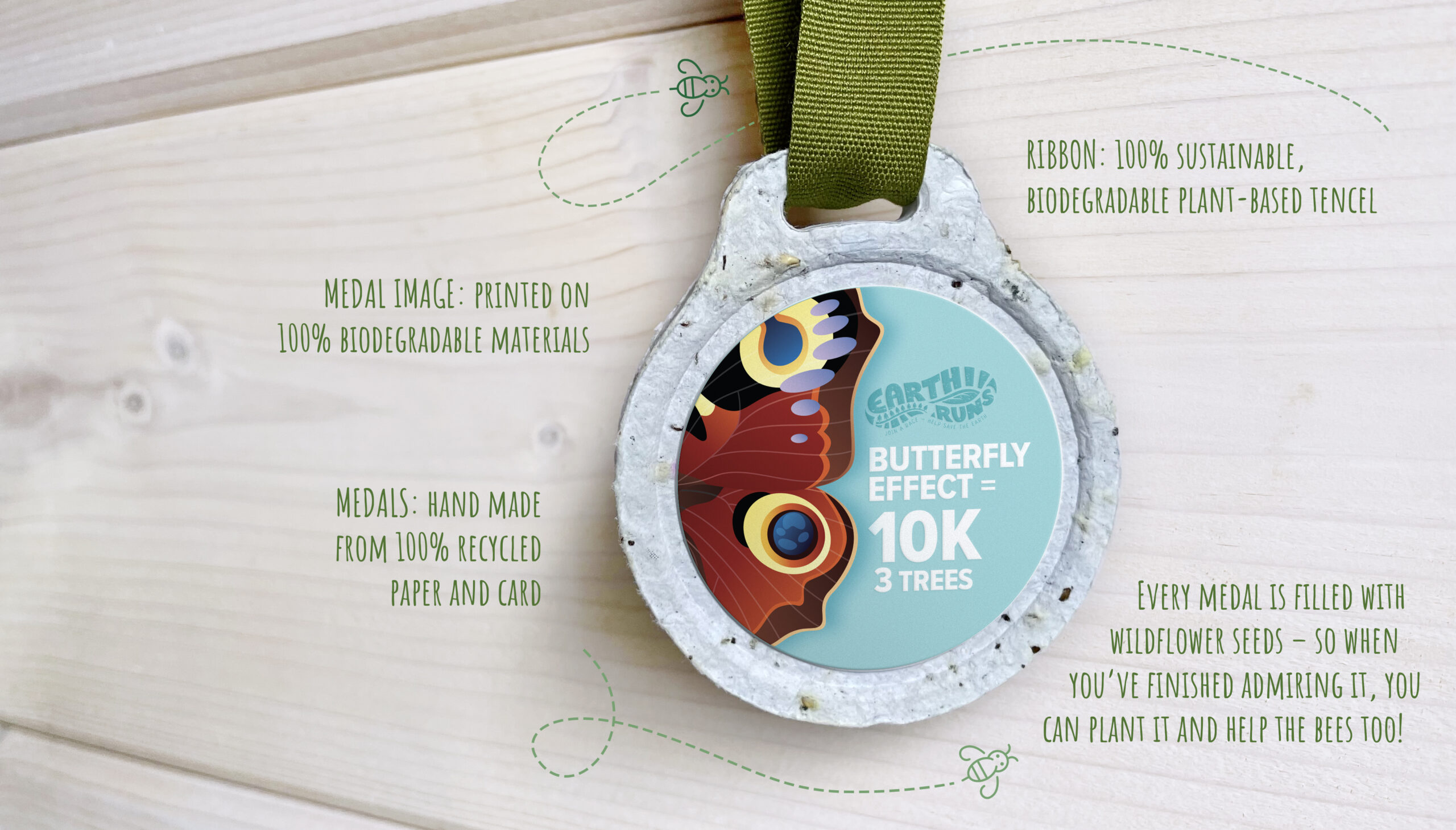 It's made up of recycled paper and card
It's fully biodegradable
The ribbon is made from plastic-free, biodegradable Tencel
It's sent to you using biodegradable envelopes and labels
Plus, every medal has wildflower seeds embedded in it, so when you've had enough of showing it off, simply plant it in the ground and you can grow your own wildflowers!
It's not for everyone – so you don't have to have one.
Every single one of them is handmade by us – which make them unique but also they're not perfect, they're incredibly lightweight as they are made up of compressed paper and card. We recognise that this may not be for everyone, which is why it's an add-on to any race you partake in. It's for those that want a memory and a record of their run but who don't want to contribute to the global waste issue.
You don't have to have one but if you do, you can trust it's better for the planet.
Take only memories, leave only footprints.
Interested in having our medals for your events? Click the button below:
DO YOUR BEST UNTIL YOU KNOW BETTER
THEN DO BETTER –
MAYA ANGELOU
THE WORLD NEEDS TREES RIGHT NOW
Our climate is in crisis, planting more trees and fighting deforestation is one part of the solution. Running a virtual race to create an actual solution. You run the miles and we partner with organisations worldwide to plant the trees. It's simple, it's easy, it's fun.