OUR CHALLENGES
YOU MOVE > WE PLANT
OUR CHALLENGES
YOU MOVE > WE PLANT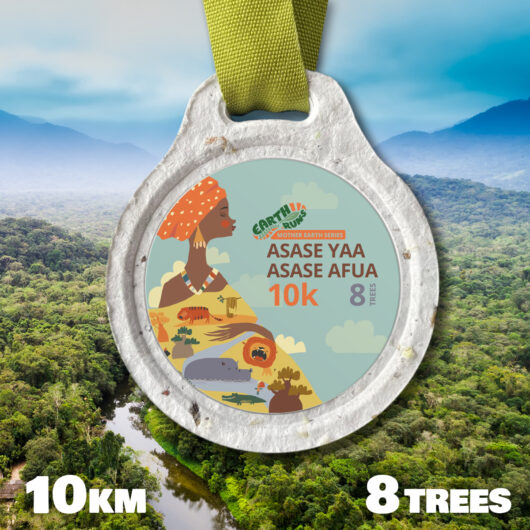 06. GHANA/IVORY COAST ASASE YAA/AFUA 10K
CLOSING DATE: 31st December 2023
TREES PLANTED: 8
| ENTRY FEE: £9.00
CLOSING DATE: 31st December 2023
PLANT: 8 TREES | ENTRY FEE: £9.00
---
In Ghana and the Ivory Coast, Asase Yaa and Asase Afua become as one. Asase Yaa is depicted as an old woman, Old Mother Earth, and as such she is regarded as the Goddess of the barren places on earth, and the mother of the dead and Goddess of Truth and Peace. Asase Afua by contrast, is depicted as a youthful, incredibly beautiful woman. She is regarded as the Goddess of the fertile places on earth, fertility, farming, love and procreation. She is credited as being the nurturer of the earth and is considered to provide sustenance for all.
Completing our Asase 10k will plant 8 trees and help give back to the planet.
Entries will need to be submitted by 9th January 2024 to be counted within the race. Your seeded medal, if you've ordered one, will be sent within 5 working days of the closing date by 2nd class post.
RACE OPTIONS
Select whether you're running, walking, cycling or rolling to compare your finish times like-for-like. To add a seeded medal (if available in your country) for completing the race, select 'Add medal' below (+£3.75 inc. postage).