OUR CHALLENGES
YOU MOVE > WE PLANT
OUR CHALLENGES
YOU MOVE > WE PLANT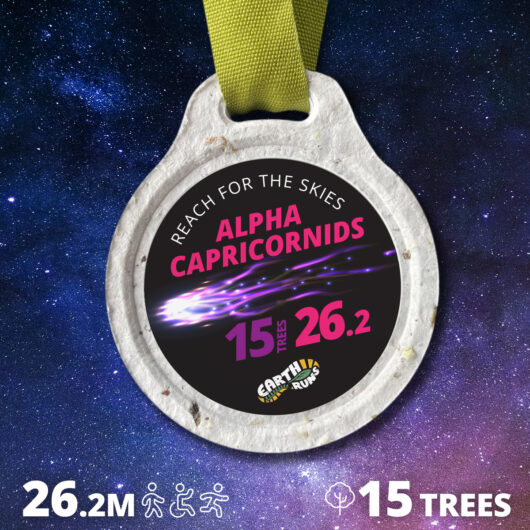 ALPHA CAPRICORNIDS FULL
CLOSING DATE: 31st August 2023
TREES PLANTED: 15
| ENTRY FEE: £15.00 – £18.75
CLOSING DATE: 31st August 2023
PLANT: 15 TREES | ENTRY FEE: £15.00 – £18.75
---
The hardest meteors to catch! Visible between 7th July – 15th August. Peaks: 30th – 31st July 2023. The alpha Capricornids are rare to see – with only 5 per hour at its height, but with big bright fireballs, you'll know when you have. Light up the skies and plant trees!
Run, walk, cycle or roll our alpha Capricornids marathon between June and August 2023 and your miles will plant 15 trees.
Entries will need to be submitted by 7th September 2023 to be counted within the race. Your seeded medal, if you've ordered one, will be sent within 5 working days of the closing date by 2nd class post.
RACE OPTIONS
Select whether you're running, walking, cycling or rolling to compare your finish times like-for-like. To add a seeded medal (if available in your country) for completing the race, select 'Add medal' below (+£3.75 inc. postage).