OUR CHALLENGES
YOU MOVE > WE PLANT
OUR CHALLENGES
YOU MOVE > WE PLANT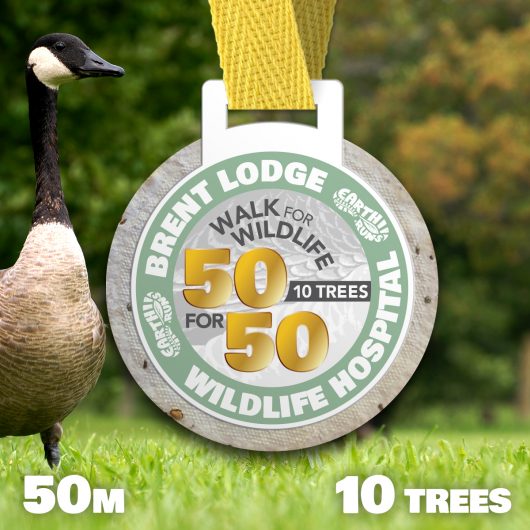 BRENT LODGE WILDLIFE HOSPITAL BIG 50
CLOSING DATE: 31st July 2021
TREES PLANTED: 10
| ENTRY FEE:
CLOSING DATE: 31st July 2021
PLANT: 10 TREES | ENTRY FEE:
---
Come and join our Walk for Wildlife to celebrate the 50th anniversary of Brent Lodge Wildlife Hospital. Your miles will not only help raise money for the Hospital, you'll also plant 10 trees, and receive a plastic-free, 100% biodegradable medal that plants wildflowers!
You can choose to run, walk, cycle or roll 50k or 50 miles before 31st July 2021. The miles can be done in one go or accumulatively. Once completed, simply upload your evidence when you're done! If you wish to get sponsorship to raise more money for the hospital, please email: asha.park@brentlodge.org for a sponsorship form.
Closing date is the 31st July 2021. Your seeded medal will be sent within 5 working days of the closing date by 2nd class post.
RACE OPTIONS
Select whether you're running, walking, cycling or rolling to compare your finish times like-for-like.