OUR CHALLENGES
YOU MOVE > WE PLANT
OUR CHALLENGES
YOU MOVE > WE PLANT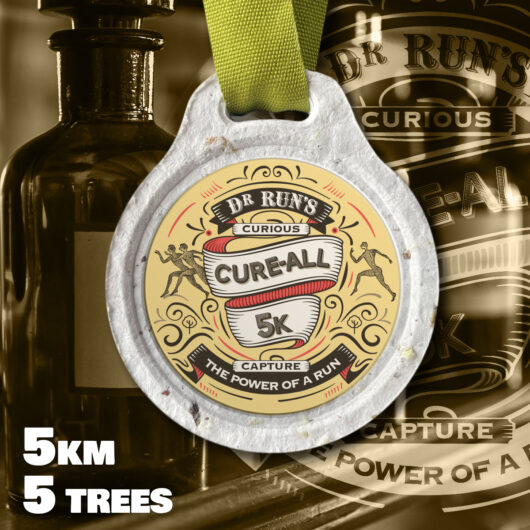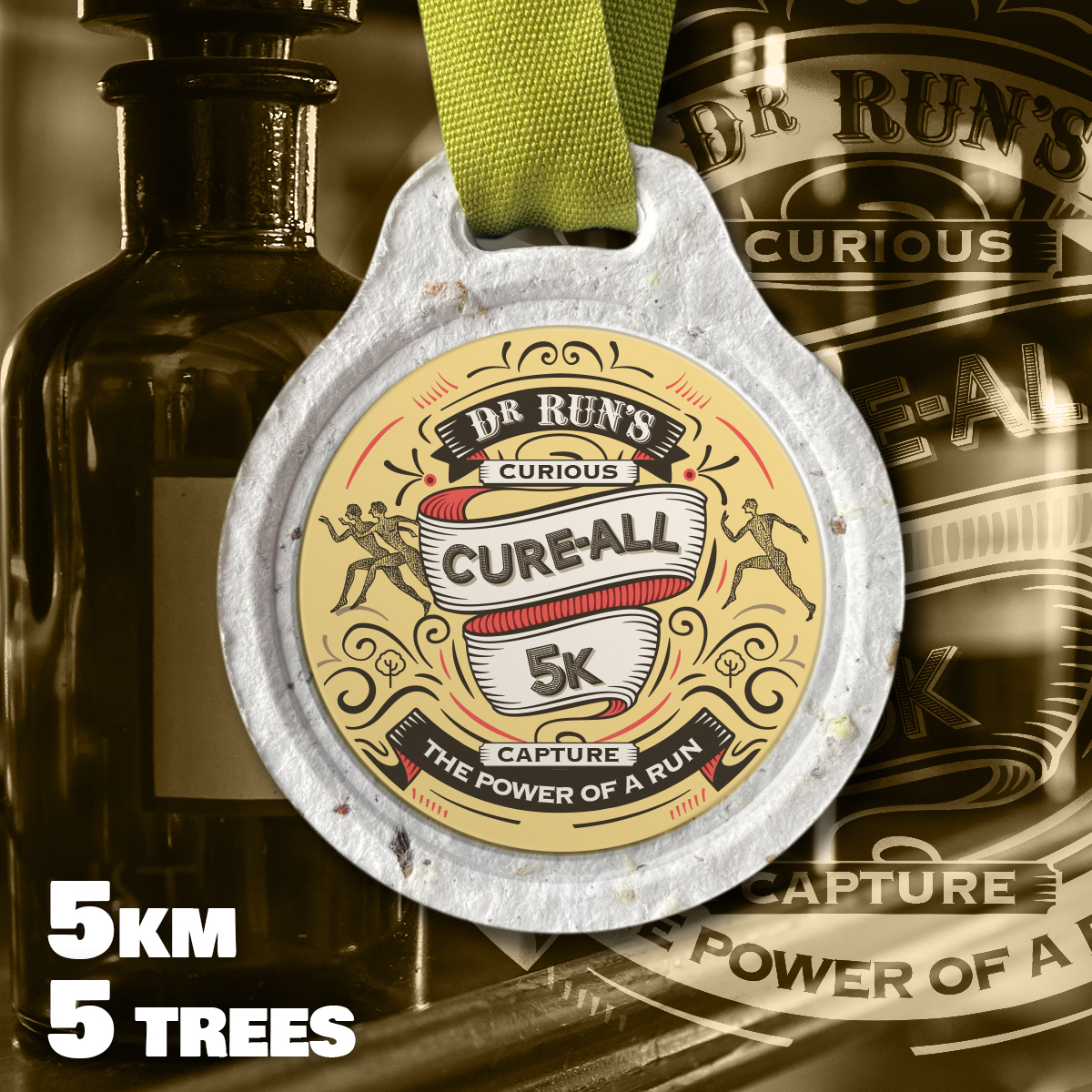 DR RUN'S CURE ALL: 5k
CLOSING DATE: 31st October 2022
TREES PLANTED: 5
| ENTRY FEE:
CLOSING DATE: 31st October 2022
PLANT: 5 TREES | ENTRY FEE:
---
Behold! Through the wonders of modern science and through centuries of wisdom, Dr Run has discovered the elixir of life, the cure for its maladies and irritants. Take Dr Run for a 5k and help solve the following ailments (and plant 5 trees for the world!):
Headache?
Take a slow run in cooler weather. Preferably in a quiet location. Dr Run suggests breathing the fresh air calmly as you run. Feel your head calm as the rhythm takes you.
Tired?
Rest. Then run. Gently. Remembering your body doesn't need more stress in its life. Running is a cure not a punishment.
Irritated by people?
Run once a day whilst muttering the things you can't say to others without causing much offence.
Tired of working?
Run from work and feel the day melt away. Run to work and annoy people with your smug look and sweaty demeanour.
Fed up with household chores?
Leave them and go for a run – they may not get done whilst you're gone but you'll soon forget about them and put them in perspective.
Wake up with a general low mood?
Force yourself on a run, no matter how far. The voice in your head will quieten when your body feels better. You can do it, and gently reminding your thoughts that they are thoughts, not facts, serves your head well.
Suffering a broken heart?
Run alone. Somewhere quiet and cry. Dr Run and crying are recommended regularly.
Lost your mojo?
Run for 10 minutes, without the assistance of modern technical wizardry. Preferably in or near nature. Do not enquire about your speed. Dr Run listens to your heart. Take Dr Run's Cure-All as often as you feel you can. Increase dose as and when needed. Remember, just a little of Dr Run will be better than no Dr Run.
Angry at the world?
Run early in the morning. Take Dr Run to a quiet spot and shout and scream while running. Feel the heart pump as you get faster and angrier, scream as loud as you can. Then, walk, quietly for 5 minutes, and jog back. You will feel instant relief. The world will thank you.
Stressed?
Take Dr Run regularly alongside regular rest (Dr Run will assist this), plus the fortune of good food and the company of friends.
Sadness or melancholy?
Run. As regularly as you can whilst looking for 5 beautiful things with each dose. Dr Run cannot solve the worlds problems but it can show you that not all in the world is bad.
Dr Run's Curious Cure-All has helped millions of people overcome their everyday maladies. Dr Run can help you. Not only that, but taking Dr Run's Curious Cure-All 5k will also help the world by planting 5 trees too! Join the masses and do good for you and the planet!
Small print: Dr Run is not actually a medical treatment, or even a qualified Doctor. However, many of Dr Run's solutions can help, but where you have a medical issue, please contact a proper, real-life medical expert who knows what they're talking about.
Race Rules: Entries will need to be submitted by 1200 GMT on 7th November 2022 to be counted within the race. Your seeded medal, if you've ordered one, will be sent within 5 working days of the closing date by 2nd class post.
RACE OPTIONS
Select whether you're running, walking, cycling or rolling to compare your finish times like-for-like. To add a seeded medal if you complete the race, select 'Add medal' below (+£3.75 inc. postage).