OUR CHALLENGES
YOU MOVE > WE PLANT
OUR CHALLENGES
YOU MOVE > WE PLANT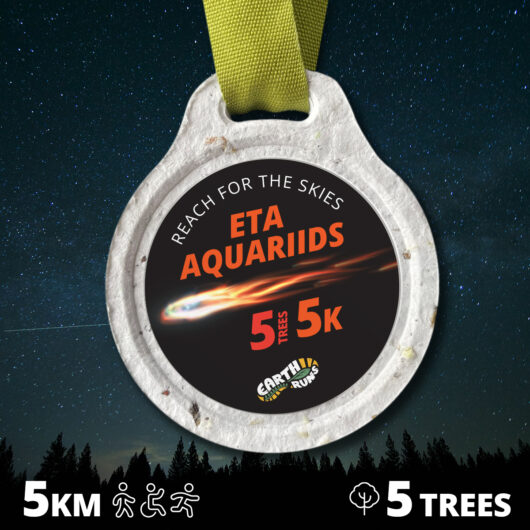 ETA AQUARIIDS 5K
CLOSING DATE: 30th June 2023
TREES PLANTED: 5
| ENTRY FEE:
CLOSING DATE: 30th June 2023
PLANT: 5 TREES | ENTRY FEE:
---
Achieve new heights with the eta Aquariids challenge Visible between 15th April – 17th May. Peaks: 5th – 6th May 2023. The eta Aquariids are swift meteors that produce a lot if long persistent trains.
Run, walk, cycle or roll our eta Aquariids 5k between April and June 2023 and your miles will plant 5 trees.
Entries will need to be submitted by 7th July 2023 to be counted within the race. Your seeded medal, if you've ordered one, will be sent within 5 working days of the closing date by 2nd class post.
RACE OPTIONS
Select whether you're running, walking, cycling or rolling to compare your finish times like-for-like. To add a seeded medal (if available in your country) for completing the race, select 'Add medal' below (+£3.75 inc. postage).