OUR CHALLENGES
YOU MOVE > WE PLANT
OUR CHALLENGES
YOU MOVE > WE PLANT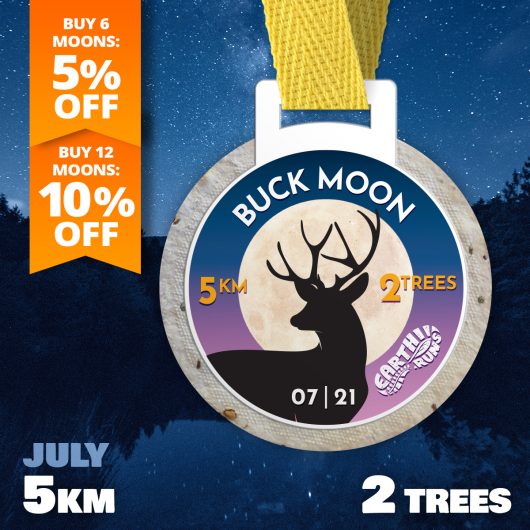 JULY BUCK MOON 5K
CLOSING DATE: 31st October 2021
TREES PLANTED: 2
| ENTRY FEE:
CLOSING DATE: 31st October 2021
PLANT: 2 TREES | ENTRY FEE:
---
Full Moon: 5th July 2021
Named after the majestic Buck Deers who start to grow their new antlers in July in time for the rucking later in the year. Start your new growth with a 5k to plant 2 trees.
Run, walk or roll 5k before 31st October 2021.
Entries will need to be submitted by 1200 GMT on 7th November 2021 to be counted within the race. Your seeded medal, if you've ordered one, will be sent within 5 working days of the closing date by 2nd class post.
RACE OPTIONS
You can select your running level if you wish to compare your race times with those of a similar experience. If you'd prefer not to, simply select "Free runner"