OUR CHALLENGES
YOU MOVE > WE PLANT
OUR CHALLENGES
YOU MOVE > WE PLANT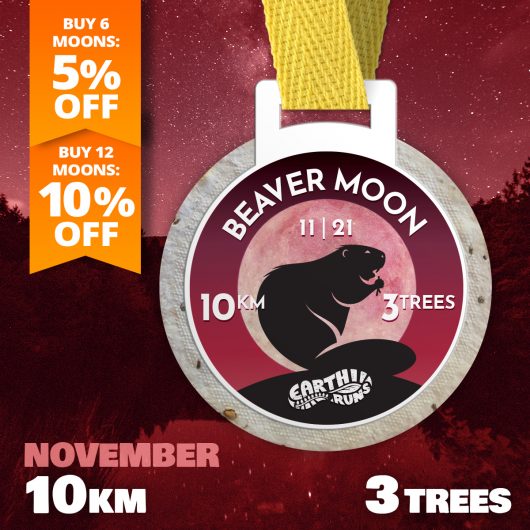 NOVEMBER BEAVER MOON 10K
CLOSING DATE: 30th December 2021
TREES PLANTED: 3
| ENTRY FEE:
CLOSING DATE: 30th December 2021
PLANT: 3 TREES | ENTRY FEE:
---
Full Moon: 30th November 2021
Our ancestors hadn't heard of thermals so, they had to set Beaver traps in November to ensure a supply of warm furs. Trap a 10k to plant 3 trees, and the beavers will be happy too.
Run, walk or roll 10k before 31st December 2021.
Entries will need to be submitted by 1200 GMT on 7th January 2022 to be counted within the race. Your seeded medal, if you've ordered one, will be sent within 5 working days of the closing date by 2nd class post.
RACE OPTIONS
You can select your running level if you wish to compare your race times with those of a similar experience. If you'd prefer not to, simply select "Free runner"