OUR CHALLENGES
YOU MOVE > WE PLANT
OUR CHALLENGES
YOU MOVE > WE PLANT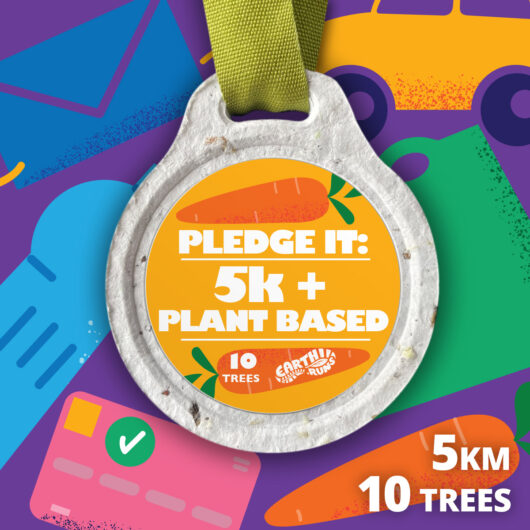 PLEDGE IT: VEGE DAY 5k
CLOSING DATE: 31st December 2023
TREES PLANTED: 10
| ENTRY FEE: £6.75 – £10.50
CLOSING DATE: 31st December 2023
PLANT: 10 TREES | ENTRY FEE: £6.75 – £10.50
---
The meat and dairy industry is estimated to create a fifth of our greenhouse gas emissions accelerating the climate disaster. If each family went plant based for one day a week, it would be the equivalent of taking our car off the road for five weeks!
Take on our 5k AND pledge to not eat meat or dairy for one day a week for a month and we'll plant 10 trees for you.
The pledge is a challenge, we don't require any evidence, however we suggest you tell your friends you're doing it for accountability and you can help be a part of the change and raise awareness for the planet. Use the hashtag #EarthRunsPledge and let us know how your challenge is going!
Your seeded medal, if you've ordered one, will be sent within 7 working days of your event deadline by 2nd class post.
RACE OPTIONS
Select whether you're running, walking, cycling or rolling to compare your finish times like-for-like. To add a seeded medal if you complete the race, select 'Add medal' below (+£3.75 inc. postage).