OUR CHALLENGES
YOU MOVE > WE PLANT
OUR CHALLENGES
YOU MOVE > WE PLANT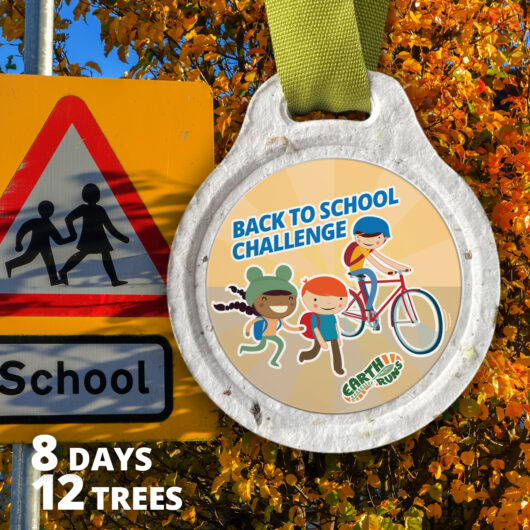 BACK TO SCHOOL CHALLENGE 12
CLOSING DATE: 24/12/2023
TREES PLANTED: 12
| ENTRY FEE: £7.50
CLOSING DATE: 24/12/2023
PLANT: 12 TREES | ENTRY FEE: £7.50
---
Get your kids to head back to school and change the planet for good!
As the new term starts, make it count. We challenge your child to run, walk, cycle or roll to school 8 days this term and we'll plant 12 trees for them!
We'll accept evidence from you as a parent, guardian or teacher who verifies your child has walked, cycled or rolled to school. Simply write a note and upload it.
Sign up to the challenge and get your family and friends on board too!
Entries will need to be submitted by 1200 GMT on 10th January 2024 to be counted within the challenge. Your seeded medal, if you've ordered one, will be sent within 7 working days of receiving your evidence 2nd class post. It is the parent/guardian's responsibility to ensure the safety of your child, by entering this challenge you accept full liability. Sorry, but only entries into the challenge from parents/guardians will be accepted.