TREE HOUR
60 MINUTES TO CHANGE THE WORLD

It's time to change the world.
Welcome to Tree Hour – our chance to come together and collectively change the world by doing what we already do.
Run, walk, or roll – we want to harness the power of your miles.
Sign up for our 1-hour challenge launched on Global Environment day, Sunday 5th June, to run, walk, cycle or roll for 60 minutes and for every minute you are moving forward, we'll plant a tree for you.

60 minutes will plant 60 trees.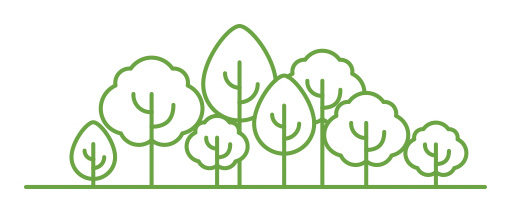 WHY WE NEED TREES
We desperately need to tackle climate change and protect our natural habitats. Trees are one of nature's most incredible resources to enable this.
Trees help clean the air we breathe, absorb harmful carbon, protect our lands and fight soil erosion; they also provide safe habitats to some of the earth's most endangered species. In addition, well-managed tree planting schemes help local communities tackle poverty and illegal logging.

WHY JOIN US
We believe that small steps made by millions of people can make a massive change.
By taking part in #TreeHour, not only are you doing something good for your body, something incredible for the planet, you're also making a stand against our Governments and our Industries to say we need action from them too.
We want to harness the power of our runners, our cyclists, our walkers and our rollers to truly make a change for the world.
Each participant will not only have enabled us to plant 60 trees for them; you will each receive your personal Impact Report detailing the difference your trees will make to the world. The impact your trees will have for our planet.
None of us is perfect; we all leave an impact. Tree Hour will ensure that for 1 hour, our impact can be a positive one for the planet.
It's our time to change the world one step at a time.
One hour. 60 minutes. 60 trees.
FAQs
Do I have to do the hour at a specific time or a specific date?
To create the most impact, we want to bring people together as a community, so we're aiming to do our #TreeHour at 10am on Sunday 5th June; however, we understand that people have busy lives – as long as the run/walk/roll is done between the 5th and 12th June that's fine.
Can I run/walk/cycle/roll/ swim/row/skateboard [insert forward motion activity]…
We believe in the power of moving forward and creating a positive momentum – so as long as you're moving forward (or backward in the case of rowing) under your own steam, we would love you to join in.
Where are the trees being planted?
The trees will be part of a broader scheme that plants trees across several countries. We work only with registered charities that support local communities and work with the authorities to make sure your trees survive and thrive.
Can I have one of your awesome seeded medals?
We may be optimistic, but we are hoping that this event will become a huge event, so we're anticipating that we won't be able to supply enough medals for the participants. However, you will receive your personal Impact Report and a digital badge for your account page.
How can I help?
Please share this with as many people as you can. We want to get as many people running/walking/rolling to plant trees as possible.
If you work for a company – consider sponsoring a school to allow them to participate. Contact us for further information.
If you are a school – contact us to be put on the waiting list for sponsors. We'll try and match you with a sponsor to plant 60 trees as a class/school.
Did we mention sharing the idea? Use the hashtag #TreeHour and get your running clubs, walking groups, friends and family out and active for an hour.
THE WORLD NEEDS TREES RIGHT NOW
Our climate is in crisis, planting more trees and fighting deforestation is one part of the solution. You maybe running a virtual race but you're contributing to an actual solution. You run the miles and we partner with organisations worldwide to plant the trees. It's simple, it's easy, it's fun.